The Cedar Ridge Custom Builder Team was pleased to host a broker luncheon on October 9. Guests enjoyed a wonderful lunch, toured available homes, and fabulous prizes were awarded during a gift raffle.
Many thanks to Cedar Ridge preferred lenders North State Mortgage and Union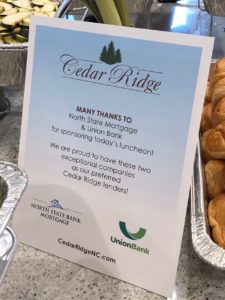 Bank for sponsoring the event.
Plan to visit Cedar Ridge during the last weekend of the Tri-County Parade of Homes event, Oct 13-14 from 12 PM to 5 PM. Six custom crafted homes will be open for viewing. The tour is free, self-guided, and open to the public.
Cedar Ridge is located just north of Wake Forest. Home owners will enjoy a slower pace surrounded by acres of nature and green space. From I-540 East, take the Capital Blvd/US 1 North exit. Travel approximately 11 miles; turn right on Holden Road, which becomes West Main Street. Turn left on Cedar Creek Road. Travel 1. 4 miles; the entrance to Cedar Ridge is on the right, just past Oak Level Christian Church.
Contact Donna McIntyre for Cedar Ridge sales information at dmcintyre@homesbypittman.com or (919) 626-9384.